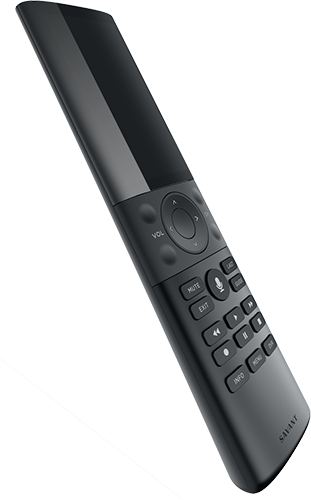 INTRODUCING THE SAVANT REMOTE
A universal remote with the power of home automation, the Savant Remote lets you control your entertainment, music, lighting and climate - all from the comfort of your favorite seat.
LOVE YOUR LIGHTING
In your Savant Home, it's never too bright and never too dark. Using elegant wireless solutions, Savant lets you control your lights from anywhere, schedule lights to fade up as day turns to night, and even turn them all off with a tap.
Schedule scenes like "Wake Up" to slowly brighten your lights in the morning, or tap "goodnight to go dark with a simple touch.
NOW PLAYING IN YOUR HOME
Using the Savant Remote or Savant App you can stream HD video, customize a Sonos playlist to match the mood in any room, or tap your "Movie Night" scene to dim the lights, turn on the TV, and enjoy that night's entertainment.
The Savant Pro Remote offers state of the art audio control from your favorite seat-just say "Play Music" and listen to recent selections, playlist, and favorites.
EFFORTLESS EFFICIENCY
Set specific temperatures in any room to keep the whole family happy, warm the house before you get home, or schedule the shades to close at mid-day for greater energy efficiency.
Your Savant Home does the work so you don't have to. In your Savant Home, it's never too bright and never too dark.
YOUR HOME IS ALWAYS WITHIN REACH
When life keeps you away, Savant lets you monitor your cameras from anywhere and stay connected through a real-time notification feed—then you can rest easy, knowing your home is always as secure as can be.
There's no substitute for peace of mind. Weather your on your phone, tablet, or PC you can always keep an eye on your home.